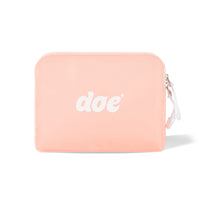 The perfect partner for your doe lashes is here - make it your new TSA approved travel bag!
With room for all your favorite products and a semi-transparent design that allows for easy viewing of its contents, you'll never have to fumble around for what you need again.
Effortless organization at its best. ;)
Not sure? Take our lash quiz to find out your style!
Order today! we offer same day fulfillment for orders placed before 2 PM PST
Frequently Asked Questions
GENERAL / SAFETY INFORMATION
Are doe's colored contact lenses FDA Approved?
Yes! Our lenses are FDA approved and fully comply with ALL US safety regulations for colored contact lenses.
Can I buy doe's colored lenses if I don't have a prescription?Unfortunately we cannot sell our colored contact lenses to people who do not have an existing prescription due to FDA regulations.
Are these safe for someone with astigmatism?
The lenses may be worn by someone who exhibit an astigmatism of 2.00 diopters or less that does not interfere with visual acuity.
Is there additional safety data I can review?
Yes, Please visit this link for safety data straight from the manufacturer. Click here to view
What is Silk Edge Design?
Our lenses feature a rounded and angled edge to allow for proper tear exchange and prevent ocular irritation.
Have additional questions? 
Please email us at hi@doebeauty.com or visit Go Visibly for more information.
THE VISION TEST
Why do I need to take a vision test? I already have a prescription.
To ensure your eye safety with our contact lenses we need to have your current prescription approved by your optometrist to verify the appropriate power, size and fit. 
What do I need to take the online vision test?
You'll need:
10 feet of space
A mobile device and/or computer or tablet display
Your prescription for your current correction
You'll be wearing your current correction throughout the test.
How long will the vision test take? 
The test takes about 6 minutes to complete and approximately 90% of prescriptions are verified within 24 hours or sooner.
What states can I take the GoVisibly exam in?
Currently, the following states in which the vision test can be completed include: AL, AR, AZ, CA, CO, CT, FL, HI, IA, IL, IN, KY, MA, MD, MN, MO, MS, MT, NC, ND, NE, NH, NV, NY, OH, OR, PA, SD, TN, TX, UT, VA, WA, WI, and WY.
For more information visit the GoVisibly site. 
I purchased doe contact lenses but did not complete the vision test in time. What should I do?
Our system will hold your order for up to 7 days. If you do not complete the vision test within the 7 days, your order will be canceled and you will be refunded.
THE CHECKOUT PROCESS
How does the checkout process work?
Good question! See our outline of the process below:
You will check out on doebeauty.com just like a traditional transaction. 
After your purchase is processed, you will receive an email to complete the vision test. 
You will then complete the vision test within 7 days and provide all necessary information.
Your prescription will be approved in approximately 24 hours.
Once we receive approval, your order will be released to ship!
My eyes need two different strengths but I can only choose one. What should I do?
Unfortunately you can only choose one power level per set of lenses and this will be for both eyes. If you need two different power levels, you must add a second set of contact lenses to cart with the proper power level.
Do I need to verify my prescription with every purchase?
Your info will remain on file for appx 6 months. No need to verify again if you repurchase within this window.
What happens if I buy lashes or something else with my doe contact lenses?
If your contact lens order includes lashes, accessories or anything else, it will be held until your prescription is approved so that we may ship your full order in one package.
Have additional questions? 
Please email us at hi@doebeauty.com or visit Go Visibly for more information.
Why doe colored contact lenses?

Verified prescriptions for proper fit & strength

24 hour comfortable wear

Made from Breathable Hydrogel Material

Fully FDA Approved

58% water + Hyaluronic Acid for maximum moisture

Astigmatism safe under certain conditions
How to wear your new Colored Contact Lenses
Frequently bought together